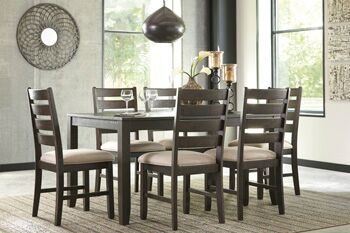 Rokane
SKU: D397-425
Pays Your First Week!
NO Credit Needed
120 Days Same As Sticker Price
Overview
You love a clean and contemporary look so long as it's warm and inviting. With that in mind, this dining table set serves your sense of style beautifully. 'Rough sawn' style finish with a hint of weathered charm tantalizes with a mood of relaxed elegance. Sumptuously upholstered seats in a neutral, textural fabric make the experience complete.
ACE MAKES IT EASY



Free Delivery for New Clients