SAMSUNG GSM
GALAXY S9 - COB
REFURBISHED
Time to upgrade your phone?
Rent it at Ace!
SHOP NOW »

AShley BLADEWOOD
RECLINER
Sit back and relax in
this super comfy recliner!
SHOP NOW »

*Receive $100 off the cash price on product $800 and up. Valid on new agreements only. Coupon must be present at time of purchase. Additional restrictions may apply. Offer cannot be combined with any other offer. Brands and merchandise vary per store. See store for details.
Offer expires February 29, 2020.
FIND A BETTER DEAL?
WE'LL BEAT IT!
Lyn Leach, President
ACE RENT-TO-OWN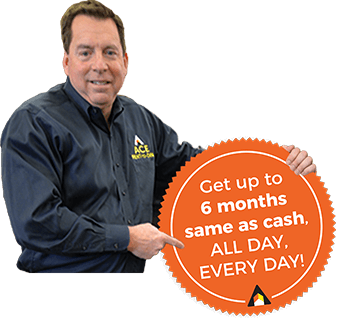 GET THE LOWEST PRICE, EVERY TIME.
See a coupon, or a lower rate somewhere else? Let us know and we will not only match it, we'll beat it. This even applies to active agreements, because we want you to have the lowerst rate, everytime.
THE ACE DIFFERENCE »
How We Make Friends

WE'LL BEAT ANY PRICE

FREE DELIVERY
(for new clients)

120 DAYS SAME AS CASH

GOOD NEWS EXCHANGE

NO CREDIT NEEDED
Top Brands, Lowest Prices
GOOD NEWS EXCHANGE
READY FOR A CHANGE? Swap any product for another and we'll apply your previous payments! Stop by your local ACE today!
FIND MY ACE >