*Sweepstakes period March 1-31, 2021. Must be 18 or older to win. Product prize models and brands may vary per store. 2 weeks free applicable on new rental agreements only and regular payments will start week 3. $10 off first 4 weeks offer on new rental agreements only, only when all 4 weeks are paid at time of rental, and weekly rate will increase to the regular rate on week 5. Employees of Ace and members of their immediate families are not eligible to win. Prizes cannot be traded for cash or transferred to other parties. This sweepstakes is subject to all applicable federal, state, and local laws. No purchase necessary. See store for details. Restrictions may apply. Odds: 1 in 500,000. ©2021 Ace Rent to Own
Check Out These Awesome Deals!
CAVALIER MAVERICK
BLUETOOTH SPEAKER
Stream your favorite music,
podcasts, news, and more –
for just $10 your first week!
SHOP NOW »

Samsung 65" QLED
Smart TV - Refurbished
Watch your favorite movies
and shows in 4K detail – only
$10 for your first week!
SHOP NOW »

FIND A BETTER DEAL?
WE'LL BEAT IT!
Lyn Leach, President
ACE RENT-TO-OWN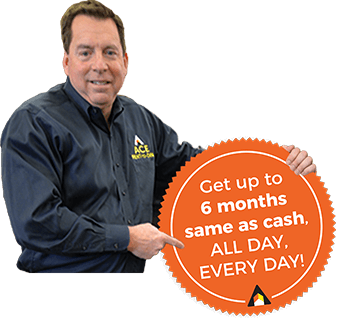 GET THE LOWEST PRICE, EVERY TIME.
See a coupon, or a lower rate somewhere else? Let us know and we will not only match it, we'll beat it. This even applies to active agreements, because we want you to have the lowerst rate, everytime.
THE ACE DIFFERENCE »
How We Make Friends

WE'LL BEAT ANY PRICE

FREE DELIVERY
(for new clients)

120 DAYS SAME AS CASH

GOOD NEWS EXCHANGE

NO CREDIT NEEDED
Top Brands, Lowest Prices
GOOD NEWS EXCHANGE
READY FOR A CHANGE? Swap any product for another and we'll apply your previous payments! Stop by your local ACE today!
FIND MY ACE >