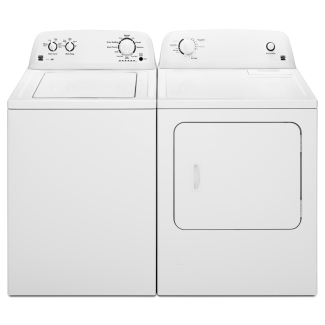 Kenmore 3.5 cu. ft. Top Load Washer w/Deep Fill & 6.5 cu. ft. Electric Dryer
SKU: ALKEN2620232/ALKEN267012
Pays Your First Week!
NO Credit Needed
120 Days Same As Sticker Price
*$10 Pays your first week's rent, online checkout only on new agreements. Limitations may apply. See store for details.
Overview
Wash With Love with this Washer and Dryer pair. Perfect for handling loads of just about any size, this
washer doesn't play favorites with features the Deep Fill option and a dual action agitator that gives all your clothes, bedding and delicates an even wash. This Kenmore 6.5 cu. ft. gas dryer was designed to protect the life of your clothing while making laundry a quicker, more convenient task for you; no need for a special trip to the laundromat for large loads; No more babysitting the dryer; The air-only option and 3 dryness settings let you fluff clothing and prevent delicate items from overheating or being damaged.
Total Rental Payment: $3,035.76
Product availability may vary among Ace Rent to Own locations.
ACE MAKES IT EASY



Free Delivery for New Clients