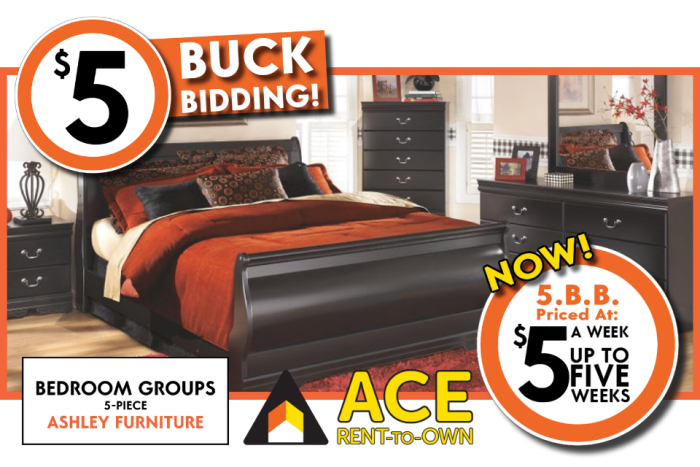 ASHLEY 5-PIECE BEDROOM GROUPS - 5BB
SKU: 5BBBEDROOMGROUPS
Pays Your First Week!
NO Credit Needed
120 Days Same As Sticker Price
August 2020: $5 pays your first week's rent. Come in-store for up to 5 weeks @ $5/week on a new August agreement. Limitations may apply. See store for details.
Overview
HERE'S HOW 5 BUCK BIDDING WORKS!
Come into Ace Rent-to-Own Between Aug 1, 2020 and Aug 31, 2020
Fill your new agreement with our great selection of appliances, furniture,
big-screen TVs, laptops, mattresses, and more...
When you bid your first $5, everything on that agreement rents for $5 for the first week!
You can keep adding $5 bids, on that day, for a maximum of 5 weeks at ONLY $5 a week!
Bid up to $25 and EVERYTHING on your agreement is only $25 for your first 5 weeks!
Your BID is OUR COMMAND!
(ATTENTION: TOTAL RENTAL PAYMENTS BELOW IS AUTO-GENERATED BY WEBSITE BASED ON
PROMOTIONAL 5 DOLLAR WEEKLY RATE AND DOES NOT REFLECT ACTUAL TOTAL RENTAL PAYMENTS
NEEDED TO AQUIRE OWNERSHIP WHEN CONSIDERING PAYMENTS MADE AFTER AGREEMENT RETURNS
TO NON-PROMOTIONAL WEEKLY RATE AFTER THE MAXIMUM OF 5 WEEKS.)
OFFER VALID ONLY ON NEW AGREEMENTS.
$5 A WEEK FOR A MAXIMUM OF 5 WEEKS THEN WEEKLY TERMS RETURN TO NORMAL, NON-PROMOTIONAL WEEKLY
$5 PROMOTIONAL WEEKLY PAYMENTS MUST BE MADE ON SAME DAY OF MAKING AGREEMENT TO QUALIFY.
MAY NOT BE COMBINED WITH ANY OTHER OFFER.
AVAILABILITY MAY VARY BY STORE. RESTRICTIONS APPLY. SEE STORE FOR DETAILS.
OFFER VALID ON AGREEMENTS MADE BETWEEN 8/1/2020 AND 8/31/2020. © 2020 ACE RENT-TO-OWN
Total Required to Obtain Ownership: $455.00
Product availability may vary among Ace Rent to Own locations.
ACE MAKES IT EASY



Free Delivery for New Clients