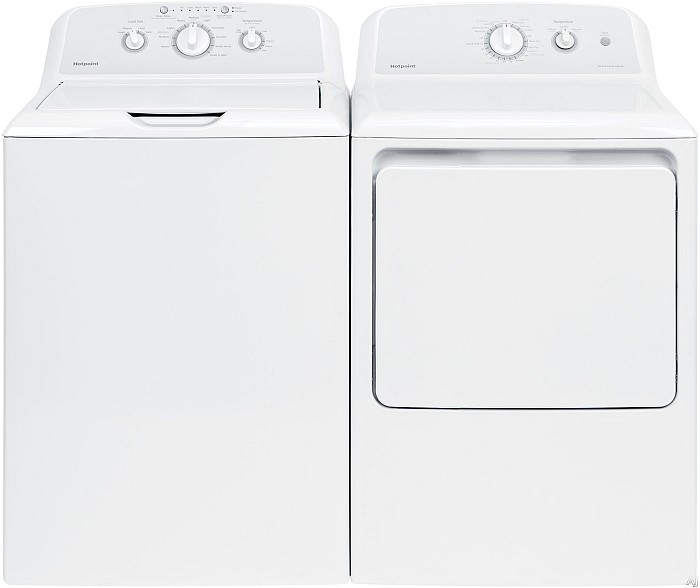 Hotpoint Laundry Pair - Electric - White
SKU: ALHOTHTW240ASKWS - ALHOTHTX24EASKWS
Pays Your First Week!
NO Credit Needed
120 Days Same As Sticker Price
*Offer valid through January 31,2020 on new agreements only. $20.20 pays your first payment through 01/31/20. Regular rates resume 02/01/20. Not applicable with any other offer. Further restrictions may apply. See store for details.
Overview
WASHER:

HTW240ASKWS 27" Top Load Washer from Hotpoint offers a spacious 3.8 cu. ft. Capacity with 10 Wash Cycles to satisfy your cleaning demands. The unit features Load Size, Deep Rinse, 700 RPM, and Bleach and Fabric Softener Dispensers. Available at AppliancesConnection
Features:
Stainless steel basketLong-lasting stainless steel finish resists rust and won't chip, peel or snag clothes
Heavy-duty agitatorPowerful wash action rotates your laundry for a thorough clean every time
Load sizeSelect your preferred load size for the desired water level
Deep RinseWhen selected, the deep rinse cycle ensure clothes are rinsed of soap residue and fabric softener
Bleach and fabric softener dispensersAutomatically operate with wash cycle
Rotary electronic controls with cycle status lightsKnow the progress of the wash cycle with just a quick glance
700 RPM spin speedFast spin speeds remove water efficiently and minimize dry time
DRYER:
HTX24EASKWS 27" UL Listed Front Load Electric Dryer from Hotpoint offers a spacious 6.2 cu. ft. Capacity with 4 Cycles. The unit features Auto Dry, Delicate Cycle, Upfront Lint Filter, and End-of-Cycle Signal. Available at AppliancesConnection
Features:
Auto DryFor clothes that come out feeling and looking great, this setting monitors air temperature to set the optimal drying time
Up to 120 ft. venting capability - Provides flexible installation
Aluminized alloy drumImproves energy efficiency and resists corrosion
3 heat selectionsOffer a choice of drying temperatures for personalized fabric care
Delicate cycleHelps protect delicate fabrics
Rotary electromechanical controlsMake it simple to set cycles of your preference
Upfront lint filterMakes cleaning out lint easy
End-of-cycle signalAlerts you when the load is done, so clothes can be removed before wrinkles set in
Reverse-a-doorDoor opening can be reversed to meet laundry room needs
Total Rental Payment: $2,539.81
Product availability may vary among Ace Rent to Own locations.
ACE MAKES IT EASY



Free Delivery for New Clients